Do you want to know about the tourist place in TamilNadu? There are so many places to visit in TamilNadu. If you are a nature lover then TamilNadu will not disappoint you. Everyone like the tourists from other countries is also eager to make a trip to TamilNadu. The food and the Tourist places in TamilNadu are awesome. The government launching a mobile app about the TamilNadu tourism. TamilNadu is the top 43rd tourist place in India. In TamilNadu, there are many temples to visit. Each temple has its own specialty. The tourist places in TamilNadu are
Kanyakumari
Mahabalipuram
Madurai
Kanyakumari 
Kanyakumari is one of the best tourist places in TamilNadu. Kanyakumari is the place where the land ends. Kanyakumari is one of the famous places for its sunrise and sunset. In Kanyakumari, you can see Gandhi Mandapam, Vivekananda rock, and Thiruvalluvar statue. For your stay in Kanyakumari, you may choose the best Hotels at Kanyakumari. Some of the hotels provide transportation facility all over Kanyakumari. There are many budget hotels in Kanyakumari you may choose one among them.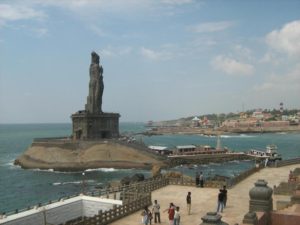 Mahabalipuram
Mahabalipuram is located 60 km south of Chennai. Mahabalipuram is famous for its stone carvings and stone temples. In Mahabalipuram, you can visit five chariots which are dedicated to Pandavas. Mahabalipuram Temple has the specialty the temple is built by the three generation of Pallavas. Most of the monuments are monolithic (that is they are carved out of one single rock). If you want to know about the stone carvings then you may visit Mahabalipuram. There are hotels available in Kanyakumari with international quality. Tourists from other countries are mostly wanted to visit Mahabalipuram.
Madurai
Madurai is known as the Temple city in TamilNadu. If you talk about Madurai everyone definitely mentions about Vaigai River. Madurai is closely associate with Tamil Language and it is known as third Tamil Sangamam. Madurai has a number of historical monuments like Meenakshi Amman temple, Tirumalai Nayak palace. The festival in Madurai also has a specialty. Meenakshi thirukalyanam, Chitthirai festival, and car festival are famous in Madurai. If you make a visit to Madurai during the time of the festival then you can enjoy a lot.
For More: Hotels in Kanyakumari near beach