Are you looking for some majestic holiday with great views and a pleasant day? Why not you make a trip to Kanyakumari?  Kanyakumari is one of the famous tourist destinations in TamilNadu. In Kanyakumari, you can see the exotic view of South India. Kanyakumari is famous for its awesome hills, immaculate beaches and primeval rivers. Kanyakumari is located at the feet of India. I would like to tell the speciality of Kanyakumari. Kanyakumari is the place where we can see the meeting of three oceans like the Indian Ocean, the Bay of Bengal and the Arabian Ocean. For your pleasant stay, you may choose one of the best hotels at Kanyakumari.  Places to visit in Kanyakumari are
Gandhi Mandapam
Vivekananda Rock
Thiruvalluvar statue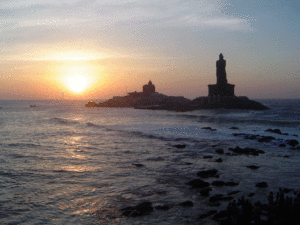 Gandhi Mandapam 
Gandhi Mandapam is one of the best tourist destinations in Kanyakumari. Mahatma Gandhi memorial is constructed in 1956. It is built with the memory of freedom fighter Mahatma Gandhi. After the death of Mahatma Gandhi, the ashes are immersed in the Triveni Sangamam. The height of the memorial is 79 feet it just represents the age of Mahatma Gandhi. The Mandapam is constructed by the Hindu, the Muslim and the Christian. There are many budget hotels in Kanyakumari gives the best accommodation within your budget.
Vivekananda Rock
Vivekananda Rock is built in 1970. The rock is the place where Swami Vivekananda used to meditate. This is one of the famous tourist destinations in Kanyakumari. You can feel relaxed and peacefulness when you visit Vivekananda Rock. The time for entry in the Vivekananda Rock is 9.00 am to 5.30 pm. You can choose the best hotel in Kanyakumari for your stay.
Thiruvalluvar Statue
Thiruvalluvar statue is the famous tourist spot in Kanyakumari. The length of the Thiruvalluvar statue is 133 feet it represents the number of Chapter in Thirukkural (Tamil literature return by Thiruvalluvar). The spot was opened for the public on January 1, 2000. The visiting time for Thiruvalluvar statue is 8.00 am to 4.00 pm in all days. The hotel booking in Kanyakumari makes your stay comfortable. I wish you to make a happy and memorable trip to Kanyakumari.